Article title:
SEA SALT FLAKES BLACK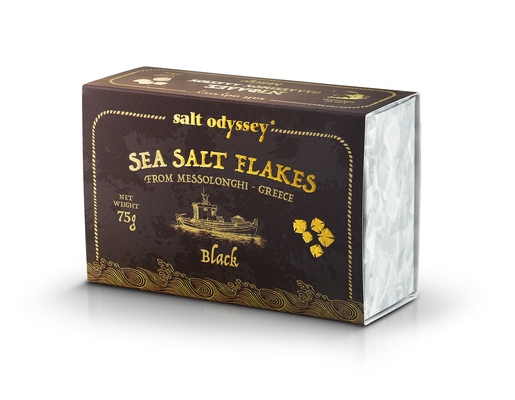 Image title:
Article main body:
Ingredients: sea salt from Messolonghi, cuttlefish ink powder
Color: dark-grey, black
Packaging: PPbag in a carton box 110x40x70mm, 75gr net
Characteristics: All natural, soft and crunchy, naturally pyramid-shaped
Use: Seasons fish, rice, pasta, vegetables
Description: An eye-catching -pyramid shaped- finishing salt with the addition of natural cuttlefish ink to give its unique black-grey color.
The dry, crunchy texture and lightly marine salinity of this rare salt are used by chefs to accompany plates with fish, rice, pasta or vegetables.
Can be used as a finishing salt by gently crushing it between your fingertips or by decorating your recipes and let your guests do the job!