Article title:
SEA SALT FLAKES BASIL & GARLIC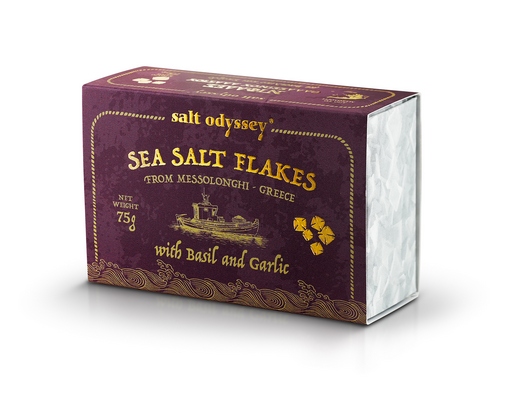 Image title:
Article main body:
Ingredients: Natural sea salt from Messolonghi, garlic, basil
Color: greenish
Packaging: PPbag in a carton box 110x40x70mm, 75gr net
Characteristics: All natural, soft and crunchy, naturally pyramid-shaped
Use: Seasons pasta, meat, chicken, fish and vegetables
Description: Discover the chef hidden inside you with this perfectly balanced -pyramid-shaped- salt.
A luxurious artisanal salt with a pleasingly rich basil aroma, combined with a slight note of distinctive garlic taste.
Use this gourmet salt as a finishing salt or at the end of cooking. Just gently crush it between your fingertips and sprinkle it over pasta, meat, chicken, fish or vegetables and enjoy its full, ripe taste!